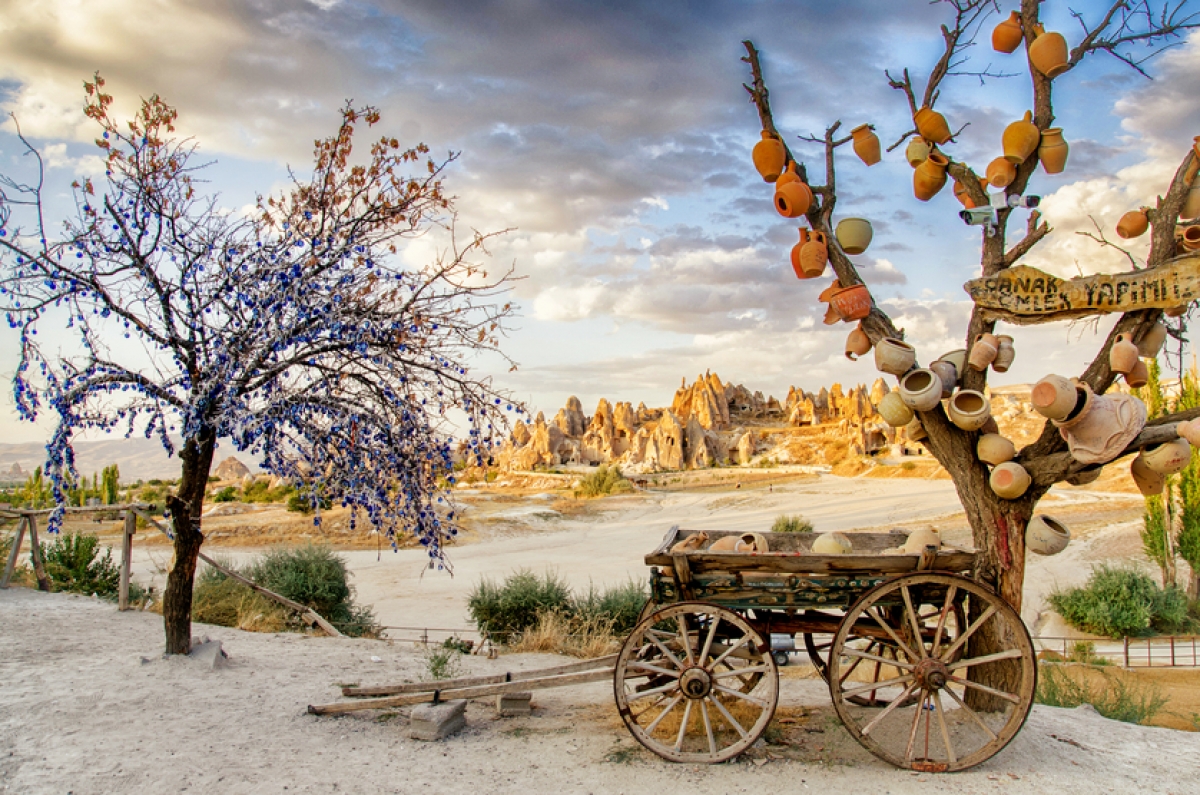 The earliest record of the name of Cappadocia dates from the late 6th century BC, when it appears in the trilingual inscriptions of two early Achaemenid kings, Darius I and Xerxes, as one of the countries (Old Persian dahyu-) of the Persian Empire. In these lists of countries, the Old Persian name is Katpatuka. It was proposed that Kat-patuka came from the Luwian language, meaning "Low Country".[3] Subsequent research suggests that the adverb katta meaning 'down, below' is exclusively Hittite, while its Luwian equivalent is zanta.[4] Therefore, the recent modification of this proposal operates with the Hittite katta peda-, literally "place below" as a starting point for the development of the toponym Cappadocia.[5] The earlier derivation from Iranian Hu-aspa-dahyu 'Land of good horses' can hardly be reconciled with the phonetic shape of Kat-patuka. A number of other etymologies have also been offered in the past.[6]
Herodotus tells us that the name of the Cappadocians was applied to them by the Persians, while they were termed by the Greeks "Syrians" or "White Syrians" Leucosyri. One of the Cappadocian tribes he mentions is the Moschoi, associated by Flavius Josephus with the biblical figure Meshech, son of Japheth: "and the Mosocheni were founded by Mosoch; now they are Cappadocians". AotJ I:6.
Cappadocia appears in the biblical account given in the book of Acts 2:9. The Cappadocians were named as one group hearing the Gospel account from Galileans in their own language on the day of Pentecost shortly after the resurrection of Jesus Christ. Acts 2:5 seems to suggest that the Cappadocians in this account were "God-fearing Jews". See Acts of the Apostles.
The region is also mentioned in the Jewish Mishnah, in Ketubot 13:11, and in several places in the Talmud, including Yevamot 121a.
Under the later kings of the Persian Empire, the Cappadocians were divided into two satrapies, or governments, with one comprising the central and inland portion, to which the name of Cappadocia continued to be applied by Greek geographers, while the other was called Pontus. This division had already come about before the time of Xenophon. As after the fall of the Persian government the two provinces continued to be separate, the distinction was perpetuated, and the name Cappadocia came to be restricted to the inland province (sometimes called Great Cappadocia), which alone will be the focus of this article.
The kingdom of Cappadocia still existed in the time of Strabo (c. 64 BC – c. AD 24 ) as a nominally independent state. Cilicia was the name given to the district in which Caesarea, the capital of the whole country, was situated. The only two cities of Cappadocia considered by Strabo to deserve that appellation were Caesarea (originally known as Mazaca) and Tyana, not far from the foot of the Taurus.